Business Health Checks and Advisory Service
We help you understand risk in your business and show you how to put a plan In place.
No matter how hard business owners, management works to grow and develop their business, there may come a time when outside help is needed.
A business consultant works with clients on various aspects of planning, strategy, key personal and problem-solving. A business consultant can also provide information and guidance to help business owners, executives or upper management master business skills in their unique industry. Learn more about what we can do, and why you should work with us. 
Having a clear understanding of the probability and impact of business risk can help you manage it efficiently. An incomplete assessment of your business may leave you unnecessarily exposed to hidden or underestimated issues or problems.
Our services can help you to achieve key outcomes from Business goals to future direction, acquisitions or recovery. Current systems you have in place and if they work for you. Regulatory compliance for industries you're in or wanting to go into.
Business Don't Know What They Don't Know
Services Offered by CROSS APAC Business consultant  
So, what does a CROSS APAC consultant do exactly? When you call in CROSS APAC for assistance, you can expect the professional to have expertise in a specific industry. Using their unique knowledge and skill set, business consultants will identify problems and help initiate changes. You can also count on a business consultant to provide constructive criticism, train and teach owners employees, and even do some unpleasant tasks like down sizing staff who contribute little to your business outcomes. If your business has been going downhill in recent years, a business consultant can help you make the necessary modifications to revive and recover your business if not to late.
It can be difficult to make the choice to hire a business consultant. However, the rewards are often worth the investment and time. Some of the most common reasons why businesses work with business advisor include:
1. Gain an Outside Perspective
Sometimes management is not able to see existing problems. After working in the same conditions for an extended period of time, it is easy to overlook issues or make up excuses why they exist. A CROSS business consultant acts as a neutral third party who can provide your business with an outside perspective about what you are doing wrong and where you can improve. With a fresh pair of eyes, business advisors can quickly spot the challenges that may be holding a company back.
2. Take Advantage of Valuable Resources
As business owners or management, your day is likely filled with a variety of tasks which leaves little time to focus on changes and growth. When you have CROSS APAC in your corner, you can take advantage of a wealth of resources. The main objective of engaging with us is to help make your business run more efficiently. To achieve this, CROSS APAC have established processes and tools in place that can be used to evaluate business practices. This prevents you from having to hire extra employees.
3. Prompt Employees to Reach Goals
With guidance from a CROSS APAC consultant, you can encourage your employees to reach short-term goals and objectives sooner. When employees are presented with a challenge that may be outside of their expertise, there may be some hesitance or delay in achieving this goal. Short-term goals often require a lot of time, effort, and skills and some employees may feel as if these objectives are burdens. A business consultant knows how to get employees motivated about achieving objectives on deadlines which can be highly beneficial to the growth of a business. 
4. Bring in New Business Skills
While you probably already have a solid understanding of business practices and all of the areas that go with it, it is not possible for one person to know everything. What makes a business consultant so useful is that they specialize in business strategies, trends, and methodologies, allowing you the opportunity to focus on your work. These skills can be beneficial in the short-term as you try to implement new changes. They can also be useful in the long-term as existing employees learn new tricks of the trade that can be used long after the consultant's contract has expired.
4. Save Time, Money and Stress
Juggling numerous tasks can be stressful for anyone. However, when you are forced to take on even more management functions or hire new people to take on these jobs, your business can suffer lost time, money, and stress. As hiring a CROSS APAC consultant is often a temporary investment, you do not have to worry about putting another employee on the payroll permanently. While a advisor is often a bigger upfront investment, these professionals are not full-time employees, which can save you money and HR processes in the long-run.
Simon is a serious asset to my Agri-eCommerce business. His range of knowledge from farming, international trade, logistics to technology is boundless. Simon draws upon a wealth of experience to mentor me and he is no ordinary business coach. If you are a start-up, in financial stress or lost the plot with your business, Simon will pull your head from the sand and lead you in the right direction. I am lucky to have him on my side.
Simon has been a fantastic mentor to me and my business. Simon is a wealth of expertise and knowledge when it comes to business. He has guided and supported me in setting up systems and procedures in my business, to run my business more effectively and efficiently. Along with finding my business niche and the services, I provide to clients, small business and large organisations. he helped me set up my CRM which is such a valuable tool to my business. My business has become more efficient and easier to manage with his guidance and support. Simon has been a joy to be mentored by, and feedback given to go to the next level in business. Simon is an expert in his field and would highly recommend him to work with.
I've been seeing Simon for close to one year now in a mentor-mentee capacity. In that year I've found him to be more than generous with his time and advice. The advice given is always prudent, to the point and often renders myself and others lost in contemplation. Like a chess grandmaster Simon sees moves in advance from multiple perspectives. As for his time that's been so readily given, he's helped me to start my own software products, and others to begin working on their dreams. This will often be in the form of a meal where Simon takes the time to truly listen and understand what's going onto the individual before guiding them through the necessary steps to achieve their vision. At the end of the day, for anyone who's looking to find outside perspectives in order to build ether themselves or their business, I highly recommend Simon as an expert strategist, and compassionate soul who will bring only great things
CROSS APAC Business Health Check
We know you're busy, so we've made it convenient and easy
Our Health Check is fit for all industry's and sizes of company's. We review you current status and have that sanity conversation on:
Industries you are targeting, is there more you are not engaging 

Your client base (different risk versus legislation) 

What structure is high risk to your business

Business continuity plans

Quality assurance, do you need 3rd party certification 

Company structure
HR and fair work compliance 
Trading company or companies
Trusts set up for asset protection
Trading names
Work Health Safety compliance, have you got it covered
Training and correct onboarding
Insurance
Compliance for industries you're in and new laws
Correct agreements and or awards
Minimums around fair work requirements
Staff on temporary work Visa, checks and balances 
Labour hire, are you exposed
Software and systems, are they best for business and streamlined 
There's certainly a lot of freedom when you run your own business, but there's also a lot you need to know and be on top of. Did you know, all business carries a certain amount of risk, and that most professionals you already talk to, will not advise you about this risk?
Our Business Health Check is specifically designed to help you discover risks your business carries and opportunity's, we also show you how you can put steps in pace to protect you and your business, so you can relax and get back to work.
Call 1300 395 583 for our Business Health Check team.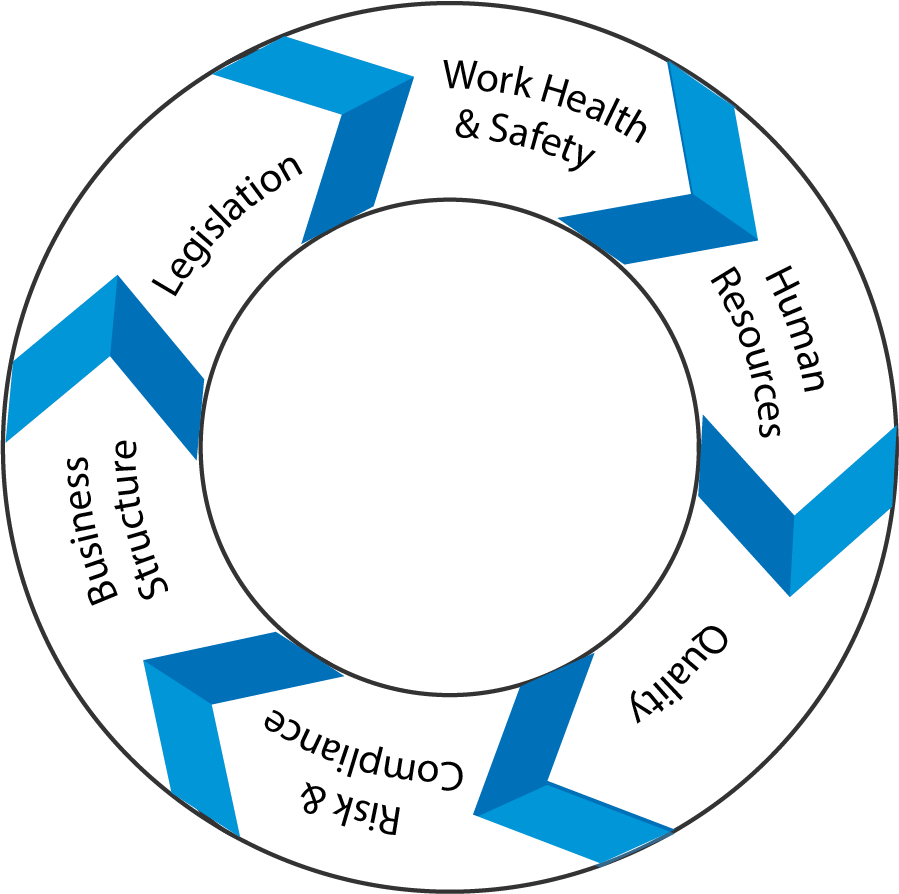 Business coaching 
CROSS APAC offers coaching and mentoring for business owner and managers. Is your business in financial stress, going through rapid growth, or a start up and need that life line to assist part time to keep you true. Working with business owners (or management) to help grow and improve their businesses (and profit) and achieve their personal and business goals.  
We sit in your business as part of your team to help instigate change and risk mitigation for the benefit of the company. We help restructure and find the best fit for people in the business which is sometimes hard for owner – managers to have that conversation. 
 we  Some of the reason why clients come to us:
My business is already flowing nicely but wont to go to the nest level and grow
My business has grown faster than expected and the growth has caught us napping and need to go the next level for management, systems, strategies 
My business is in financial stress, markets has changed, supply chain as folded
I am stuck working in the business and wont my life back
I'm not satisficed with my business but lm not sure why and what to do
I'm starting a business and need to know how, pit falls and compliance must haves
A business has the wrong culture within and need to re-align the business from the top down including owners and family members working in the business

You have some specific challenges around staff or customer service

You need motivation and accountability.  Staying on task, being disciplined and getting done what you need to do can be hard for you at times

You have no-one in business to ask questions of, bounce ideas off and generally offer you support
We work with individuals, groups and all sizes of business, also assisting with recovery from business stress, voluntary administration, take overs, acquisitions to startups.
Simon is a qualified and registered NLP practitioner and life coach with the NLPAA. with the Give us a call to see how we can assist your business or personal growth. We can suggest IT systems, platforms fit for business with as it is now and growth to come. 
To assist people in areas effected by COVID and not in central Queensland we have arranged an online calendar booking and secure video   
Building 33 Level 1
554-700 Yaamba Road
Norman Gardens Queensland 4701
---
PO Box 8500
Allenstown, QLD 4700
No matter where you are or what Industry you are in, CROSS Asia Pacific through its different divisions, will be there to support you with our business needs in person or via our online technology.